Eating healthy at home doesn't have to be difficult, time-consuming or expensive. There are actually a lot of great options out there that your kids will enjoy. Here are three ideas you can try out.
1. Fortified Hot or Cold Cereal
They say that breakfast is the most important meal of the day, but that doesn't automatically make it the healthiest meal, does it? To get you and your kids off to a good start every morning, try having a big bowl of hot or cold cereal. Most breakfast cereals are fortified with a variety of vitamins and minerals along with whole grains. These cereals are good for your heart and digestive system, and they give you and your children plenty of energy for the day.
There are many nutritious children's cereals that come in a variety of colors and shapes without massive amounts of added sugar as was more common in the past. Today's breakfast cereals for kids are much healthier than some of the ones you may have eaten when you were a kid.
There are also a lot of great hot cereal options that kids will enjoy on a cold winter morning. Oatmeal and other similar hot cereals are available in a variety of flavors with natural and organic ingredients. You can also add fresh fruit, maple syrup or honey and a handful of granola or chopped nuts to top it all off.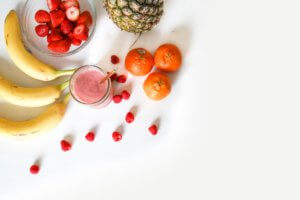 2. Fruit Smoothies
Whole fruit smoothies are another great option the kids will love creating and consuming. The truth is that a lot of kids will enjoy foods that they help make. It's a fun part of growing up. Helping out in the kitchen makes your child feel important, and it will give them a boost of confidence to be able to say that they made that smoothie.
You can use either fresh fruit or frozen fruit, or you can try a combination of both. Then, add in several heaping spoonfuls of yogurt along with 1 or 2 cups of milk or your favorite plant-based milk. Whip it up, and you've got a colorful, healthy smoothie packed with nutrients and high-quality calories.
3. Healthier Versions of Kid Favorites
Most kids enjoy specific foods that parents consider to be "junk food." With a little creativity, though, you can easily transform many of these junk foods into healthy options that you and your child will be happy to eat.
By adding fresh vegetables and lean meats, you can create your own healthy pizzas at home. If you use ground turkey or very lean ground beef and toss in some chopped carrots, onions and bell peppers, you've got a fantastic and tasty yet healthy burger that your kids will love.
Eating healthy is easy and fun when you start with fresh, whole ingredients and let your kids help prepare the meal in the kitchen.
Do you have more questions about nutrition? Talk to staff at WFMC Health or become a new patient today!