Our Centering Pregnancy® groups are a great way for expectant mothers to approach prenatal care in a group setting. When you join one of our Centering Pregnancy® groups, you will be able to connect with other women who have similar due dates and meet as a group to discuss questions, concerns, and solutions. You will also have the opportunity to spend more time with your health care provider to ask questions and receive more personalized care.
Our providers are welcoming, genuine, and compassionate. You can count on us to listen intently, offer practical advice and work with you to deliver exceptional, comprehensive maternity care through the course of your pregnancy.
Over the span of ten sessions, you can expect to:
Become friends with other expectant moms
Spend two hours with your provider each visit
Learn skills to take better care of yourself and your family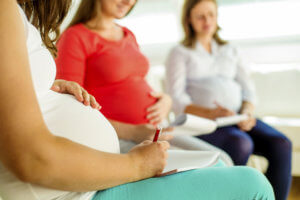 WFMC Health currently has several Centering Pregnancy® groups led by four different providers and five of our wonderful medical assistants. We offer classes in both English and Spanish. If you would like to join a Centering Pregnancy® group, call us today at (503) 585-6388. If you are already a patient at WFMC, please ask your health care provider!