We know your baby's health is important to you. It's important to us too. Regular checkups—well-baby/well-child exams—will help our pediatricians monitor of your baby's development and keep your baby up-to-date on immunizations.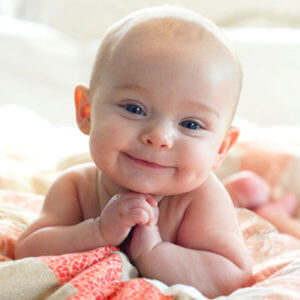 Your child will have well-baby/well-child appointments regularly during the first 2-3 years and then come in once every year through childhood and adolescence.
Well-baby Checkups
During the first year of your child's life, well-baby checkups will be especially important and happen more often. Here is what you can expect at those first-year exams (from Mayo Clinic):
Measurements: Your pediatrician will weigh and measure your baby carefully and keep the information as your child grows. Regular measurements will help your provider see if your baby is growing normally for his or her age.
Physical exam: Our skilled pediatricians are here to answer any questions you have about your baby's development. At WFMC Health, we want to get to know your child. We also want to make your visits easy and convenient. You can expect your pediatrician to check the following:

Head
Ears
Eyes
Mouth
Skin
Heart and Lungs
Abdomen
Hips and Legs
Genitalia

Motor skills development: As your baby grows, your pediatrician will continue to ask questions about how your baby is learning to move.
Immunizations: Your baby will need to receive several immunizations during the first few years of well-baby appointments. We know shots can be scary for children and adults alike, so our friendly, careful pediatricians will do everything to make the experience comfortable for you and your child.
Questions: Your baby's pediatrician will need to ask you questions about life with your child. These questions will usually include topics like sleeping, feeding, and diaper changing. Your pediatrician may have more questions to help get to know your baby. This is also a great time to ask any questions you may have.
Before you leave, visit our front desk to schedule your child's next appointment. You can also reach us at (503) 585-6388 to schedule or ask any questions.