Washing hands properly and keeping them clean is especially important during the Coronavirus (COVID-19) pandemic. In fact, handwashing is one of the front lines of protection to keep yourself and your family from getting sick. Stay healthy by learning when and how to wash your hands most effectively (and how to teach your kids to do the same).
When to Wash Your Hands
Germs can spread easily between other people and through contaminated surfaces, so be especially sure to wash your hands after being in public places with frequently touched surfaces, such as grocery stores, coffee shops, or gas stations. Be sure not to touch your eyes, nose, or mouth with unwashed hands, and always wash your hands before you eat or prepare food. If you touch your phone with unwashed hands, do not hold your phone to your face until your hands are washed and your phone is disinfected.
Other times to wash your hands include:
Before, during, and after preparing food
Before eating
Before and after caring for someone who is sick
After using the bathroom
After changing a diaper or helping your child use the bathroom
After blowing your nose, coughing, or sneezing (and be sure to sneeze or cough into your elbow or a tissue)
After handling an animal, animal food, or animal waste
After handling trash or taking out the garbage
After touching commonly-touched surfaces, such as doorknobs, electronic devices, or shopping carts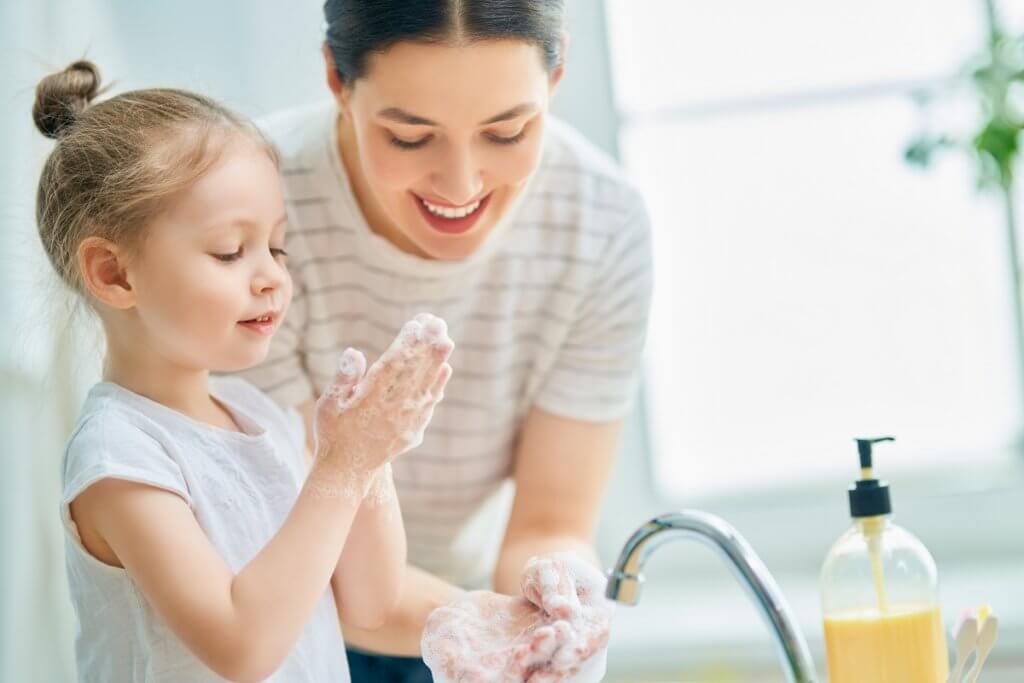 Wash Your Hands the Right Way
In addition to washing your hands frequently, there is also a correct way to wash them.
The CDC recommends these five steps when washing your hands:
Wet your hands with clean, running water and apply soap. This water can be warm or cold.
Lather the soap in your hands. Be sure to lather the soap everywhere: between your fingers, on your palms, on the backs of your hands, and under your nails.
Scrub your hands for at least 20 seconds. If you sing the "Happy Birthday" song twice, that is about 20 seconds.
Rinse your hands under clean, running water.
Dry your hands with a clean towel or let them air dry.
We also found this video to be a helpful visual guide:
Encourage your children to wash their hands frequently and correctly. They may benefit from watching you wash your hands a few times. If your children are younger, make sure you help them reach all the hard-to-get spots, like in between their fingers and under their nails.
Use Hand Sanitizer if Soap and Water Aren't Available
If soap and water are not available, you can use an alcohol-based hand sanitizer. Hand sanitizer is not a replacement for washing your hands, but it can work in a pinch. Make sure your sanitizer contains at least 60% alcohol.
To efficiently use hand sanitizer, be sure you rub the product over the entire surface of your hands and fingers. It is best to wait to touch anything until your hands are dry. When you are able, wash your hands with soap and water to give them a proper cleanse.
Do You Have Another Hand-Washing Song?
Getting tired of singing "Happy Birthday"? Let us know what other songs you are singing to help you wash your hands for 20 seconds!
Do you have more questions about keeping your family healthy in Salem Oregon? Contact our friendly staff at WFMC Health or become a new patient today!