As a parent, you want to make sure your child is healthy and happy. One of the best ways to ensure that your child stays healthy is by taking them for regular check-ups, or physicals. Annual physicals are important for all kids, no matter how young or old they are. Let's break down why.
What Can You Expect During an Annual Physical For Kids?
During a physical, the doctor will usually start off by taking their height and weight measurements, as well as checking their vital signs such as heart rate and blood pressure. Next, they will assess different parts of the body including eyesight, hearing, lungs, and heart functions by listening with a stethoscope or other tools. They may also discuss nutrition habits with you and ask questions about any past medical issues or family history of disease. Lastly, they may administer vaccines if needed (usually once every year).
At What Age Should Kids Start Getting Annual Physicals?
After your child's regular wellness visits between 2 weeks – 18 months of age, it is recommended that children get a check-up or physical each year from the ages of two to five. Once your child reaches school age, you may be able to start taking them for a physical every two years. However, it's important to note that this recommendation may vary depending on if your child has any health problems or a family history of illness. In these cases, it's best to talk to your child's pediatrician about how frequently their physicals should take place.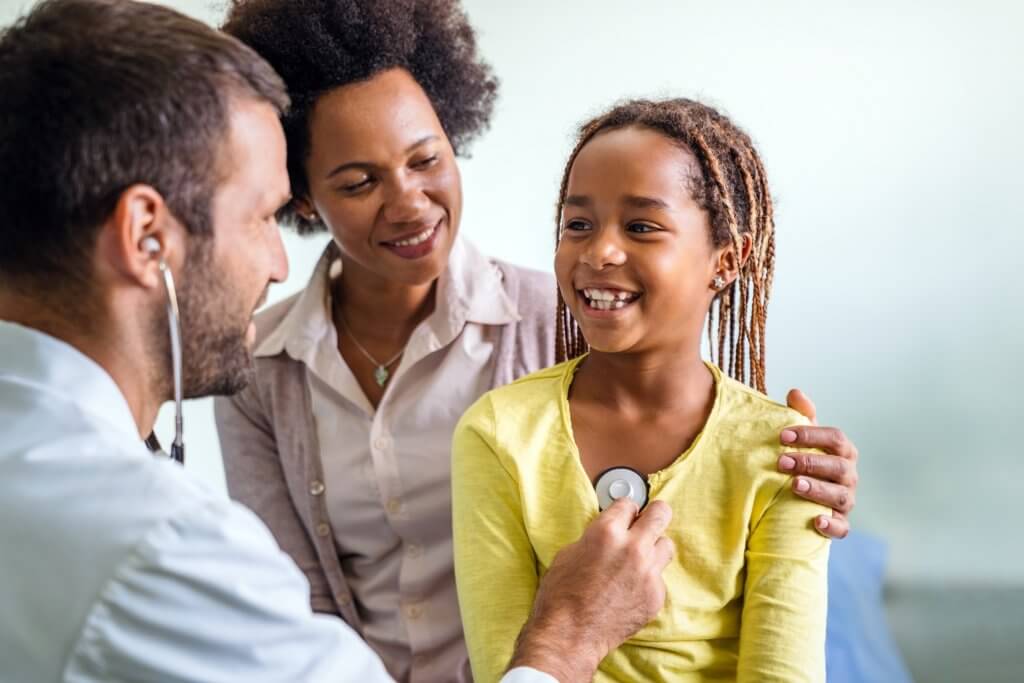 Benefits of Annual Physicals
Track Health Over Time
Annual physicals help you and your child's pediatrician keep track of any changes in your child's health over time. This could include anything from height and weight measurements to developmental milestones or changes in vision or hearing. Additionally, it is an opportunity for you to ask questions about any concerns that you may have about your child's health and well-being.
Early Detection and Prevention of Illness
During a physical, the doctor will also look for any signs of illness or injury. If something is detected early on, it can be much easier to treat. This could mean less time spent in the hospital or fewer visits to the doctor if proper treatment is started right away. Early detection can also help prevent more serious illnesses from developing in the future.
Stay Up-to-Date with Immunizations
Immunizations are an important part of keeping your child healthy and protected from a variety of diseases. During annual physicals, the doctor will administer the necessary immunizations to ensure that your child is up to date on their shots.
Immunizations can protect children from serious diseases such as measles (MMR), chickenpox, hepatitis A and B, diphtheria/tetanus/pertussis (DTaP), and others. It is important that you talk to your pediatrician about the required and recommended vaccines for your child based on their age and ask any questions you may have about immunizations.
Establish a Relationship with Your Child's Doctor
Taking your child to their annual physical can also help establish a good relationship between you, your child, and their pediatrician or family doctor. This relationship can be very beneficial in times when you need trusted advice or guidance about how to care for your child's health. It also allows you and your doctor to get to know each other better so that when more serious issues arise, they are already familiar with you and your child and their medical history.
How To Prepare For Your Child's Physical
The best way to ensure a successful physical is by being prepared beforehand. Make sure that you bring a list of any medications that your child is currently taking, as well as any allergies that they may have. It is also helpful if you write down any questions or concerns ahead of time so that you don't forget anything during the appointment itself. If your child gets anxious during doctor's appointments, consider bringing an activity (such as a coloring book) or a favorite stuffed animal for them to hold during the visit. Finally, try to arrive at least 10 minutes early to fill out forms and provide updated information.
Annual physicals are an essential part of keeping your children healthy throughout their childhood years and into adulthood. By scheduling regular check-ups every year, you can rest assured knowing that you are staying informed and prioritizing your child's health through a trusted healthcare provider.