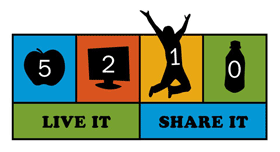 WFMC is proud to participate in the 5210 program! This national project teaches individuals and families how to adopt and follow proven weight control and healthy lifestyle guidelines. We encourage our patients to join us by:
Eating 5 servings of fruits and vegetables a day
Top cereal with fruit
Eat a fruit or veggie with each meal
Try a new vegetable each week
Offer fresh or dried fruit for snacks
1 serving is 1 cup of fresh or frozen, or 1/2 cup cooked or canned
Reducing screen time to 2 hours or less
Plan TV and video game time
Move the TV out of the bedroom
Choose another activity instead of screen time
Turn off the TV during meals
Switch to physical activity for 1 hour of screen time each day
Moving 1 hour a day
Start slowly, 10-15 minutes a day and gradually increase until you are active 1 hour a day
Get outside, be active as a family
Encourage your friends to move with you
Join a team or try a class at a community center or gym
Consuming 0 sugar sweetened beverages
Try to drink water or milk with meals
Grab a water bottle and fill it often
Limit fruit juice and sugary sports drinks
Read drink labels before buying and reach for low sugar options
The goal sheet is a convenient way to track your progress with each of the four guidelines so you can discuss them with your provider at the next appointment. This program is for all patients- children and adults!
Download 5210 brochure in English
Download 5210 brochure in Spanish
Download 5210 goal tracking sheet in English