June is Men's Health Month—the time of year when people across the country come together to raise awareness about regular doctor's visits for men, healthy habits, preventable men's health problems, and seeking advice or treatment without feeling shame. This June, especially during the week before Father's Day, join us as we support and encourage the men and boys in our lives to prioritize their health and well being.
Let's Talk About Men's Health
The Men's Health Network started Men's Health Month in the early 1990s to bring awareness to the way men approach their health. The grim truth is, on average, men die nearly five years earlier than women and visit the doctor around 50% less than women. Why is this the case?
According to the Men's Health Network, men are more reluctant to go to the doctor. A recent article by Healthline explores this trend a little deeper with a survey from Cleveland Clinic's MENtion It campaign. The survey found that 65% of respondents admitted they avoid visiting the doctor for as long as possible, and 37% said they have withheld health information from their doctors. This kind of medical delay and reluctancy to share information is dangerous—doctors may miss important early signs of serious conditions such as prostate cancer, which has a much higher recovery rate when caught early with a simple exam.
The reasons for reluctancy can vary. Some men say they are too busy to go to the doctor. Some are uncomfortable being vulnerable about their bodies. Some are afraid of a serious diagnosis. Some believe they should be able to deal with their health on their own. No matter the reason, the goal of Men's Health Month is to make positive changes now for a healthier future, and that includes being honest and upfront about one's health.
The week before Father's Day is National Men's Health Week (June 14-20). Here are a few practical ways for men to start taking control of their own health, as well as ways to encourage the men you know to embrace their wellness.
Regular (and Honest) Doctor's Visits
Regular doctor's visits are vital. Even if you are not feeling sick, annual exams keep you informed about your health and may lead to early detection and prevention for more serious conditions that don't often show symptoms. Open and honest communication with your provider about your health and family health history is the best way to ensure the most accurate advice, medication, or treatment solutions.
If you are feeling sick, don't wait to schedule an appointment. Getting care quickly, especially for older men, can make all the difference in recovery.
Men's Health Month Challenge: Schedule a regular visit with your primary care provider and/or encourage a male friend or family member to do so.
Healthy Lifestyle Choices
Making healthy lifestyle choices are another huge part of men's health. This includes healthy eating, physical activity, skin protection, and quitting unhealthy habits.
Healthy eating is not one-size-fits-all, because every body is different! However, a healthy diet often includes fruits and vegetables, plenty of water, foods with fiber, calcium, and protein, and less foods with high levels of sugar, salt, and "bad" fats. Not only can better food choices and vitamins lower the risk of heart disease or diabetes, they can also provide more energy and contribute to better emotional health.
Staying active is a significant step towards wellness. Regular physical activity can help manage weight, relieve arthritis symptoms, reduce the risk of heart disease, and even boost your mood. Going on a 30-minute walk every day is a great way to reach the recommended 2.5 hours of physical activity for adults.
Skin protection is part of this list because approximately one in five Americans will develop skin cancer by the time they turn 70. Skin cancer is the most common form of cancer in the United States, but it is also one of the most preventable—and it is one of the many instances where early detection and treatment are vitally important. Wear sunscreen of at least SPF 15 with both UVA and UVB coverage and try to avoid the sun between 11 a.m. – 2 p.m. when the sun is more direct. If you would like more information about skin cancer, we wrote a more in-depth article about it here.
Finally, quitting unhealthy habits can be a difficult but necessary step towards better health. These habits can include smoking, excessive alcohol consumption, gambling, and more. It can be helpful to talk to someone you trust if you need help leaving these habits in the past, or you can ask your doctor for helpful resources.
Men's Health Month Challenge: Make at least one healthy lifestyle change this month and/or encourage a male friend or family member to do so.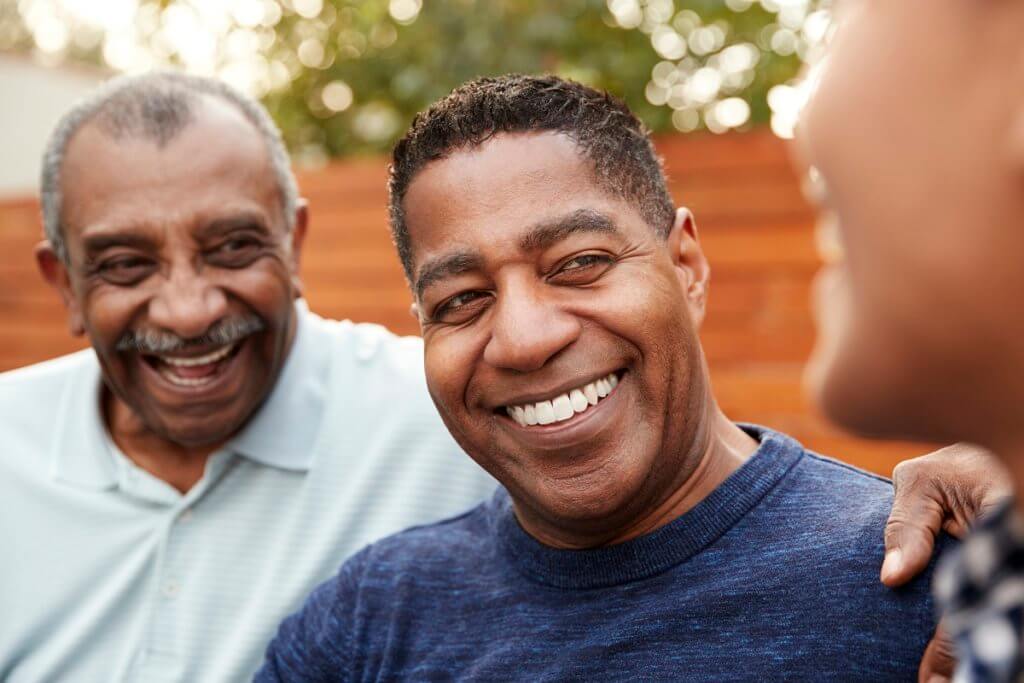 Mental and Behavioral Health
Stress, depression, and anxiety are serious issues for men and women worldwide, but the latter two often go unrecognized in men due to the stigma around vocalizing emotions. For men, depression more often manifests as anger, irritation, detachment, or escapist behavior. Depression and anxiety can also turn into physical issues, like a recurring headache, quick heart rate, or tight chest. We all can help remove the stigma by normalizing the conversation about male emotions and mental health.
Treatment and healthy coping skills can make a dramatic difference for those living with depression. Seeking support or treatment is not weakness, and there are many effective options available.
If you think you may be dealing with stress, depression, or anxiety, please reach out to a professional or contact us to get connected with one of our behavioral health providers.
For more information about male depression, we recommend these resources from Mayo Clinic and the National Institute of Mental Health.
Men's Health Month Challenge: If you are experiencing stress or living with depression or anxiety, don't suffer in silence. Take the first step this month to reach out to someone you trust or contact a behavioral health professional.
Wear BLUE Day: June 19
Wear BLUE this June to raise awareness about the importance of men's health! The Men's Health Network started Wear BLUE to bring more visibility to the value of regular doctor's visits, healthy lifestyle choices, open conversations about physical and mental health, and supporting male friends in their journeys toward wellness.
Wear BLUE day is the Friday before Father's Day: June 19, 2020. Put on your favorite blue clothing to support the men in your life and start a conversation about men's health. You can also use the hashtag #ShowUsYourBlue to raise awareness on social media.
Learn more about Wear BLUE and join the movement at https://www.menshealthnetwork.org/wearblue/.
Do you have more questions about managing your health in Salem Oregon? Contact our friendly staff at WFMC Health or become a new patient today!