Why Does it Matter?
During pregnancy, your body will need various nutrients and vitamins to keep you and your baby healthy. Because of this, it's important to be intentional about what you eat while you're expecting. Most foods are completely safe, many foods are excellent sources of nutrients, and some foods should be limited or avoided altogether. Keep in mind that these lists are guidelines, not strict diets. If you are pregnant or trying to get pregnant, make an appointment with your provider to discuss what sort of food plan will work best for you.
Foods to Eat:
Pasteurized Dairy: Dairy products contain high amounts of calcium and protein, which helps the baby's growth. Products like Greek yogurt are fantastic; in addition to calcium and protein, they also have probiotics that can help intestinal health and potentially reduce birth complications.
Foods with iron: Iron is incredibly important for maintaining good blood health. Because of the extra blood in a pregnant woman's body, it's possible a lack of iron may lead to anemia and/or birth complications like preterm delivery or stillbirth. Iron-rich foods include lean (cooked) meat, dark green vegetables, egg yolks, whole grains, legumes, salmon, low-mercury tuna, almonds, and more.
Fiber-rich foods: Constipation is common during pregnancy, but regular intakes of fiber can help. Fiber can be found in wild rice, fruits and veggies, lentils, beans, peas, prunes, and whole grain foods.
Omega-3: Omega-3 fatty acids are essential to most people's diets, but especially those of pregnant women. Omega-3 promotes fetal development and has many other benefits for the mother as well. You can find omega-3 in salmon and fish liver oil supplements. A single serving of fish oil supplements is often a good option for pregnant women who do not eat fish or are advised to avoid seafood during pregnancy.
Water: This isn't a food, but it's just as (if not more) important. Just as you need more iron for the increased amount of blood in your body, you also need to increase your water intake so both you and your baby are properly hydrated. Signs of dehydration include headaches, fatigue, and anxiety, and dehydration may put you at more of a risk for urinary tract infections.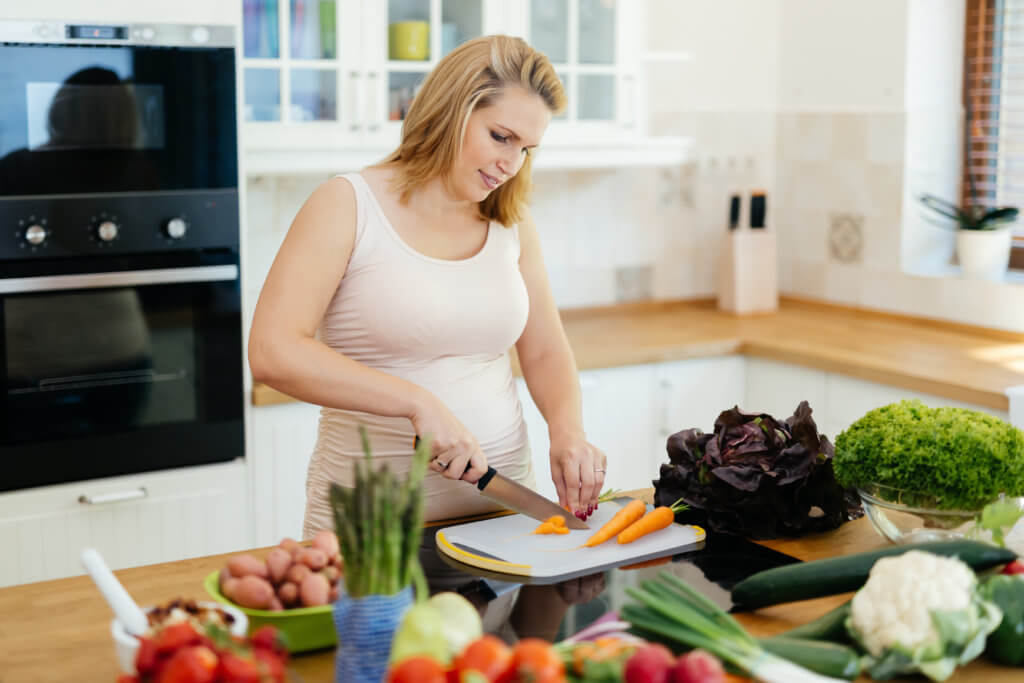 Foods to Limit or Avoid:
Undercooked, Raw, or High-Mercury Fish: While there is always a risk to eating undercooked or raw fish, the risk doubles during pregnancy. Undercooked fish can carry bacterial or viral infections such as Salmonella or Listeria. Listeria is especially dangerous to pregnant women and their babies, as it can pass through the placenta without making the mother sick. In addition, fish that are high in mercury—such as shark, swordfish and some varieties of tuna—should be limited or completely avoided. However, low-mercury fish can be healthy and high in omega-3, which is recommended during pregnancy.
Undercooked, Raw, and Processed Meat: Just like undercooked or raw fish, undercooked or raw meat is risky to eat during pregnancy. Undercooked meat could include infections such as E. coli, Salmonella, and Listeria, which could lead to complications in your baby's brain function. Also, processed meat—such as deli meat or hot dogs—can also be contaminated and should be fully cooked or reheated until they are steaming. To be safe, stick with fully-cooked meat during pregnancy.
Unpasteurized Dairy:Unpasteurized milk and cheese are also prone to dangerous bacteria that could harm your baby. The process of pasteurization kills the harmful bacteria and reduces the risk of life-threatening fetal infections.
Unwashed Produce: It's important for everyone to thoroughly wash or cook their produce before eating, but this precaution is especially important during pregnancy. Fruits and vegetables can be contaminated with the same bacteria as above, with the addition of a surface parasite called Toxoplasma. This parasite may not develop issues immediately, but symptoms may appear later in life and cause blindness or other brain damage. To be safe, thoroughly rinse, peel, and/or cook your produce.
Caffeine: Generally, it is recommended to limit caffeine consumption during pregnancy. Caffeine can limit the growth of your baby while in the womb and may result in a low weight at birth or, in extreme cases, miscarriage. You can still have a cup of coffee in the morning, but if you want to be safe, you can avoid caffeine altogether. Try to drink a good amount of water, juice, and pasteurized milk instead.
Alcohol: Alcohol is off-limits during pregnancy. Drinking alcohol while pregnant can result in miscarriage, stillbirth, or fetal alcohol syndrome. The potential effects should always outweigh the desire for a drink.
When in doubt, ask. Proper nutrition during pregnancy can be difficult to figure out on your own.
If you have any questions or want to get started on a meal plan, contact our friendly staff at WFMC Health or become a new patient today!